I hadn't known about the Picos de Europa mountains before planing my trip to Iberia. But a Spanish colleague from work recommended them to me, when I asked for hiking recommendations in the Pyrenees. Pictures on the Internet looked promising and it was not far off my route along the coast. Since the swell forecast looked flat for a couple of days, I decided to pay the "Picos" a visit.
I struggled to find good train or bus connections (maybe because it was off-season?) so I rented a tiny car for a couple of days. I picked it up in Gijón and dropped it off in Santander afterwards, because that was the closest city to my next surfing destination.
Lagos de Covadonga, Vega de Ario, Belbín
My first stop was the Lagos de Covadonga (Lago Enol and Lago de la Ercina) which are situated in the western part of the mountain range. This place must get crowded in summer. I hear the road gets closed and you have to take shuttle buses from the valley. I visited in the end of October, so I could drive all the way up to the lakes myself. It was pretty deserted up there, just a few dozen tourists by the lakes.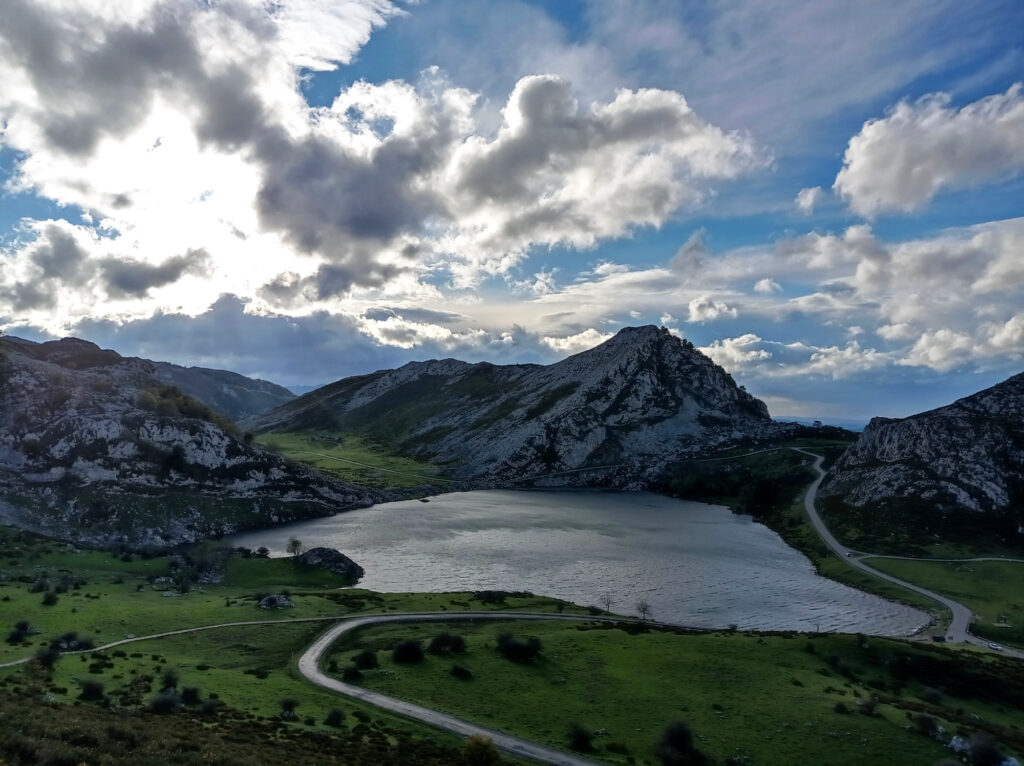 But I wanted to venture further up, to the Refugio Vega de Ario. I had downloaded some GPS tracks for this trip. On the way up, I followed the main hiking trail. The Picos are mostly limestone and this part forms something like a plateau. It is kinda hilly and rocky, but there's no big climbs. It reminded me of Steinernes Meer back home at the border of Germany and Austria. But here in the Picos, you get views of the actual sea, not just a sea of rocks.
It was super windy. Though the whether forecast said it would remain dry, I saw dark clouds moving in from the south. Luckily they dissipated once they reached the main mountain range to the south, and I didn't get caught in any rain.
It took me about 3 hours to reach the Refugio. And after leaving the Lagos, I didn't meet another person. The Refugio itself was closed down for winter. A small room in the entrance area was left open and served as an emergency shelter. And there was some outdoor seating, which I used to have a very windy lunch.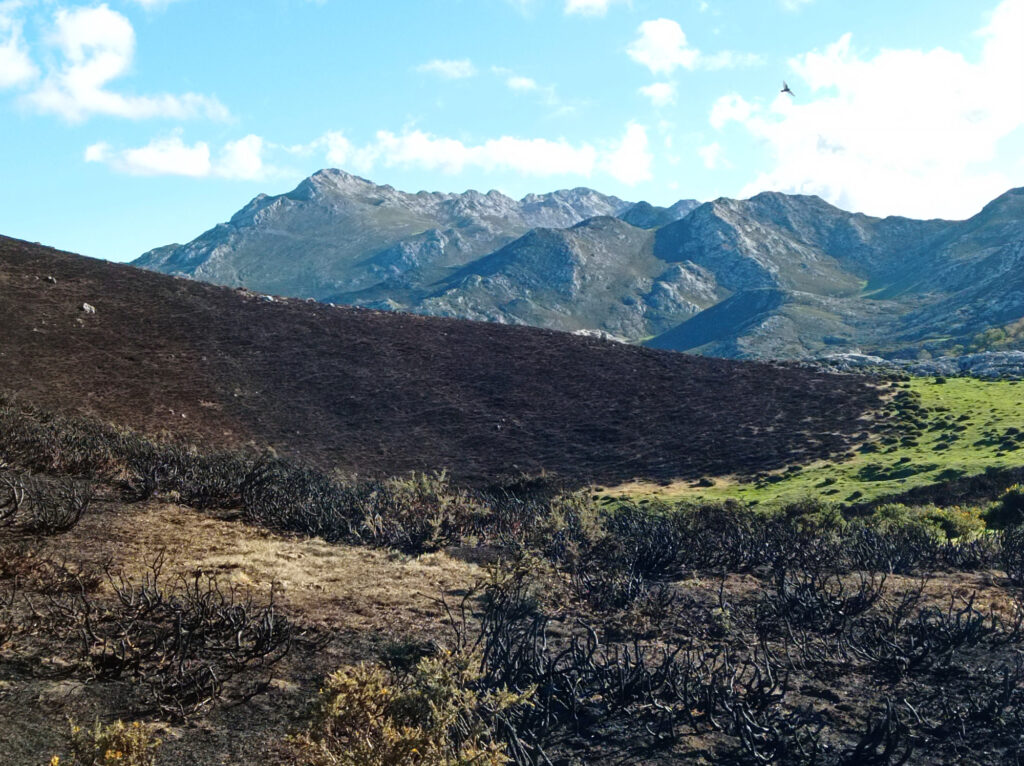 On my way back I tried to follow a different GPS track, which was kinda tricky. While there was traces of human and animal traffic in some sections, there was no visible clues of a trail in other parts. I got off track for a while and I found it cumbersome to get back again. After I joined the GPS track I checked it on my phone every few meters, in order to not get lost again. (Luckily I had brought a battery pack, but had my phone broken down, I could have been in real trouble.) On the plus side, I had great views of the nearby rock formations, the sea in the background, and even some rainbows.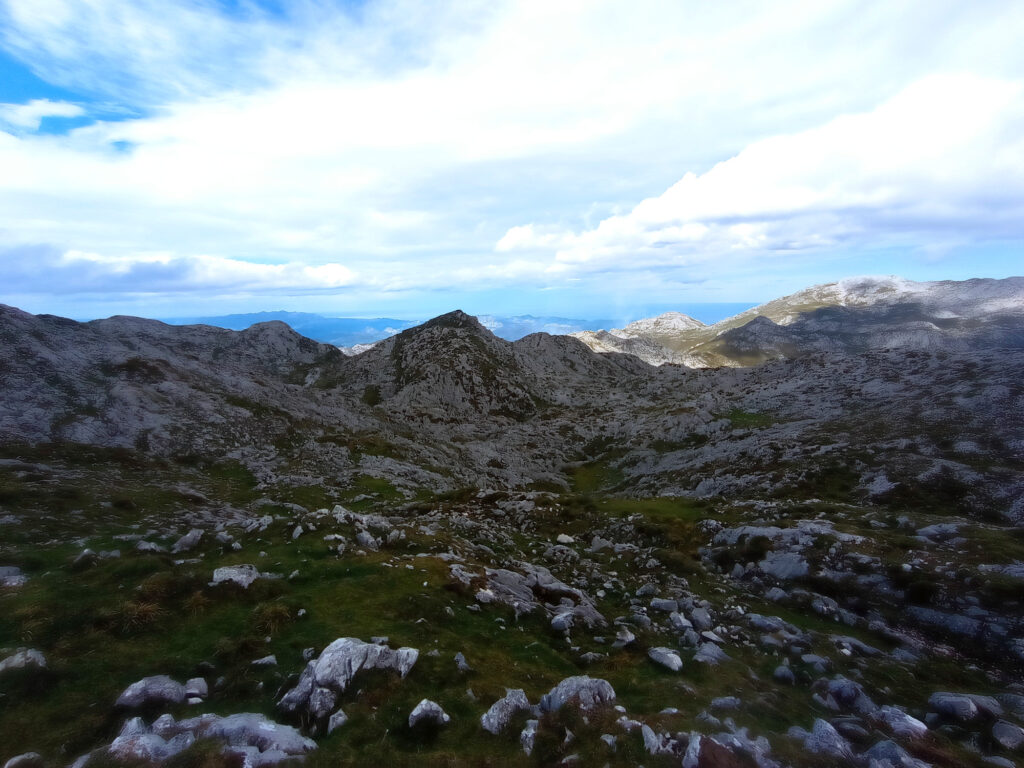 I got back onto a proper trail about half-way back to the Lagos. There, I also encountered the only people that I'd meet on my hike: two cowboys who were driving a herd of cattle down the hills. The trail led me through the picturesque Majada de Belbín. Old stone huts surrounded by free roaming animals, like a donkey, a couple of dogs, several cows, and a big scary looking bull. From here a comfortable gravel road led back to the Lagos, with horses grazing nearby. No more need for GPS.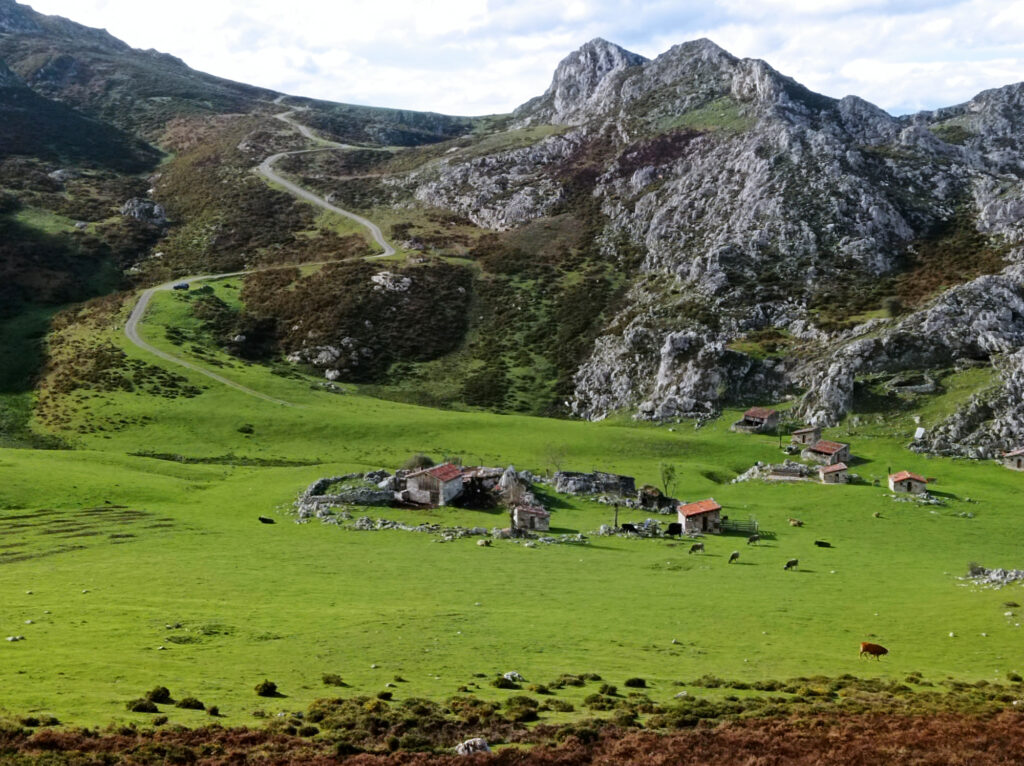 Covadonga
The village of Seattle Covadonga is located in a deep valley, further down from the Lagos the Covadonga. There's a holy cave (not pictured) and an impressive christian church located on a big hill in the middle of the valley.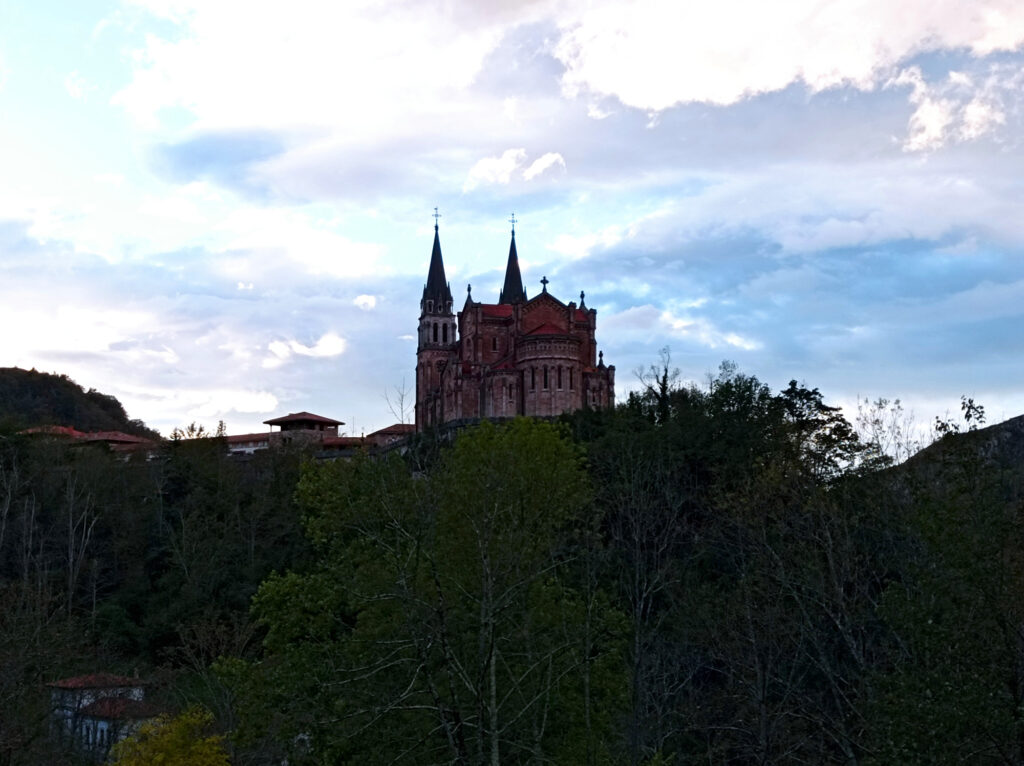 From Bulnes towards Picu Urriellu
The next day I drove across the Rio Cares into the central massif of the Picos de Europa. I was heading to the remote village of Bulnes, which can be reached easily by a cable-car leading through a long tunnel. Bulnes is a small village (well, actually two villages) with tiny old houses built from stone. Its lower part is situated inside a deep valley, with towering cliffs all around. Its upper part is located further up the slopes, right beneath one of these cliffs.
But Bulnes wasn't my only destination for the day. Instead, I hiked further uphill through another deep valley towards a mountain called Naranjo de Bulnes (Spanish) or Picu Urriellu (Asturian). It is not the highest mountain in the Picos, but it has a very distinctive peak. I've seen many mountains all around the world, but Picu Urriellu is certainly one of most sightly ones.
I didn't have much time left, so I didn't expect to make it all the way up to the Refugio de Urriellu. Let alone climb the peak itself. But I got fairly close to it, about half way between Bulnes and the Refugio. This gave me a good view of the mountain and its surroundings. Compared to Lagos the Covadonga area, the terrain here is much more mountainous. Still limestone, but steep rocks rather than a plateau.
I hiked up for about 2h and after leaving the village of Bulnes I didn't meet a single person. The weather looked threatening, but in the end it only rained a couple of drops. And the valley that I passed was somewhat sheltered from the wind. I descended by the same route, so here's some pictures from top to bottom: