The plan for the second half of my Tanzania trip was to go to Zanzibar and do some kite surfing and surfing. Or, let me be less ambiguous and use the more unwieldy term "wave surfing" for the latter. I had almost a month of time for getting as much as possible of both. In the end, one worked out better than the other. Let's see, if you can tell which one…
Kite Surfing
After my successful test run on the mainland, I was feeling hopeful for kite surfing in Zanzibar. When I arrived on Unguja mid-december, one of the main wind seasons was about to begin, too.
I first headed to Paje on the east coast. An endless beach runs north to south here and there is a barrier reef about 1.5 km off the cost. A wide lagoon forms between the beach and the reef, which can be knee deep to head deep depending on tides. (Some patches actually become dry land at extreme low tide, but there's enough water left the main body of the lagoon.) The bottom is mostly sand, which makes it an ideal place for kite surfing beginners. Consequently there's a lot of small kite centers all along the beach.
When I arrived in Paje, I could see some kites in the air right away. But during the next days and weeks, the wind would be just a little too weak most of the time. In the late afternoon hours, thermal winds from the east would usually pick up. But even they would hardly get much stronger than 10 knots. You'd occasionally see a couple of foilers with big kites (15m2 to 18m2) but even they were struggling. Way too little for my 95kg and my biggest kite being a 12m2.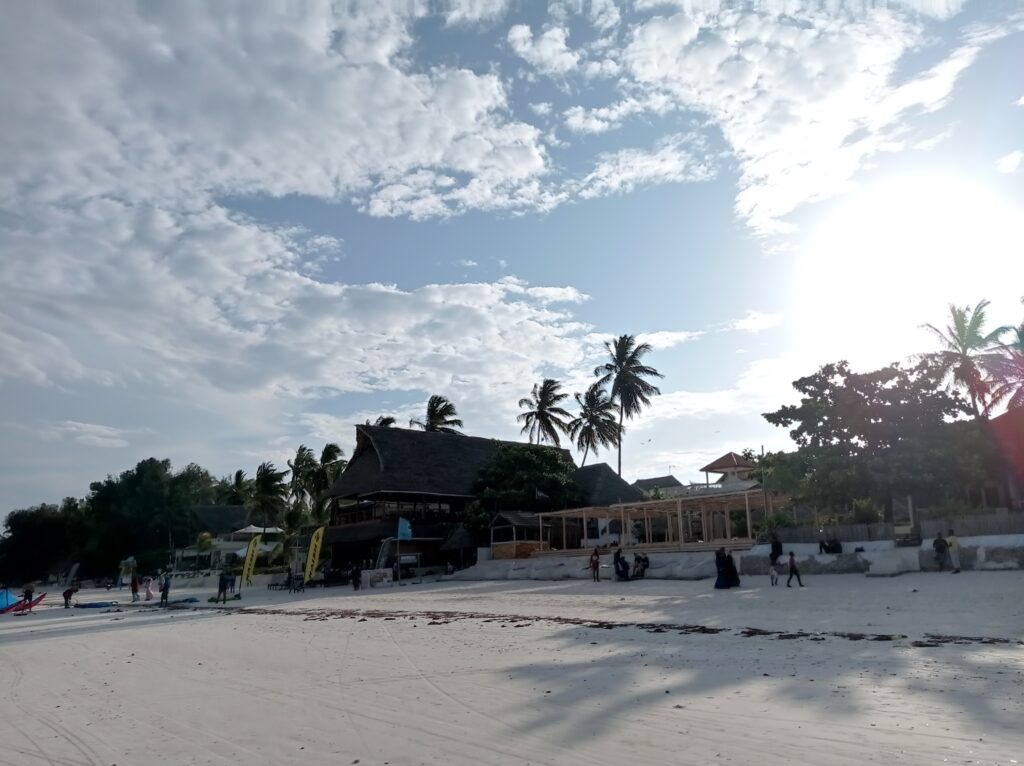 So I focused on wave surfing instead (see below) and kept watching the wind forecasts. At some point, the forecast for Nungwi looked a little more promising than the one for Paje. So I relocated to Nungwi (at the northern tip of the island) after about a week.
Nungwi is weird. To the north and east, it is also shielded by barrier reefs, which extend the islands northern tip with shallow waters over sandy ground. But somehow this area is not too popular with kiters. It seems that the tides are just a little off here: too much dry land at low tide and too deep to stand in at high tide, making it more challenging to teach beginners. Moreover, the coast is so packed with holiday resorts that there is little public beach access. Where there beach is more accessible, it is packed with boats. Mostly fishing boats, but also some dive boats and speed boats for all the tourists.
Maybe there's also other reasons, but in any case there is almost no kite surfing infrastructure. There's at least one kite center in Nungwi, but they merely have an office there. Most renting and lessoning happens elsewhere, like in Matemwe or Mchangani, both at least half an hour away by car.
There isn't many independent kiters either. After exploring the whole coastline, I finally met some guys from Spain, who were kiting to the east of Nungwi. But the beach is very narrow there at high tide and you had a hard time getting there. Either walk all around the northern tip of the island, bribe one of the beach resorts to grant you passage, or climb down a small cliff.
The next day I came back there with my own kite equipment, but once again there just wasn't enough wind. One guy, who had been foiling confidently the day before, was now struggling to even keep his kite up in the air. We waited, hoping the wind would pick up a little just before sunset, but in the end there was no kite surfing that day.
The wind forecast had been corrected downwards by now and it became clear that there wouldn't be much kite surfing in Nungwi for the next couple of days. I couldn't find any surf rental either, let alone anyone who'd organize wave surfing trips to the outer reef. Disgruntled, I settled for a day of diving and started planning my return to Paje.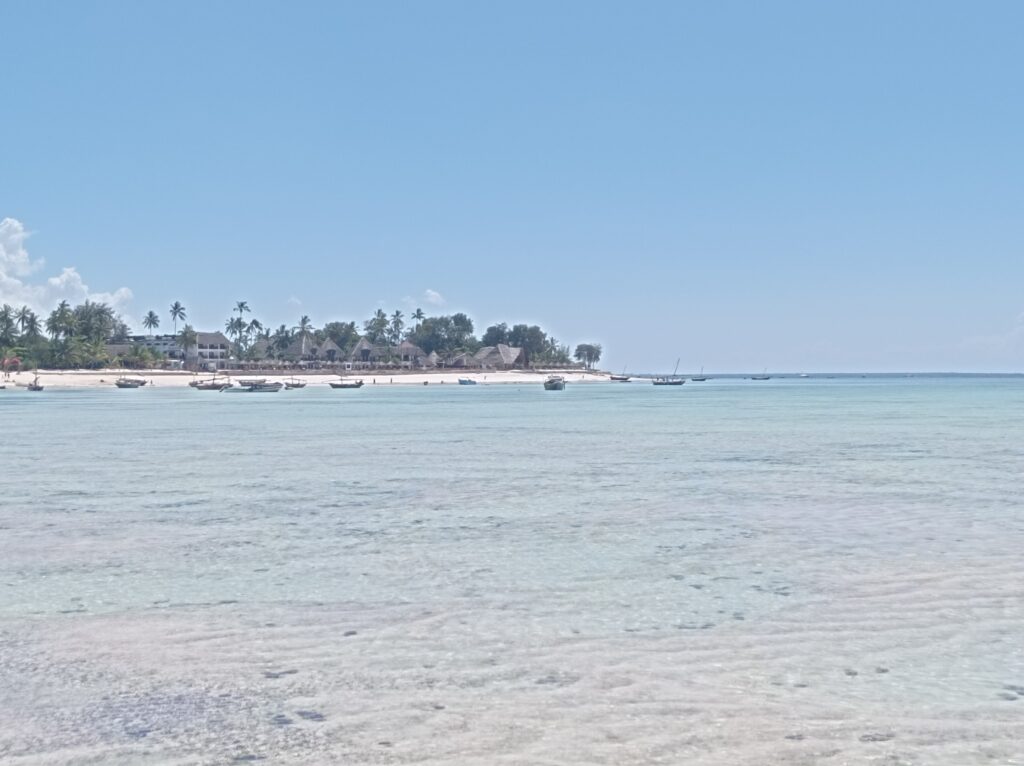 After a short stopover in Stone Town (the historical part of Zanzibar's only urban center) Paje had me back. There still wasn't much wind, except for early mornings and late afternoons. But even then you'd need a big kite and great low-wind skills.
I was watching the situation from the beach. Some evenings I regretted not setting up my equipment, but by the time the wind seemed strong enough, there was only a couple of minutes left till sunset. Then there was a day when the trade winds from the north finally kicked in. Still it was mostly big kites and foil boards during most of the day. But as usually, thermal winds kicked in in the late afternoon adding to overall wind speed. They also turned the side-shore wind a little more onshore.
By the time I had pumped my kite, the whole lagoon was crowded with kites. I hadn't been the only one who had been starved for wind for days and weeks. My 12m2 was still on the lower end of all the kite sizes on the water. I really struggled to get going, let alone navigating between all the other kites. Especially all the beginners, who were either standing there with their kites at 12 o'clock or relaunching them after they crashed it. Impossible to get through. In the it was an involuntary down-winder and I had to walk back on the beach.
The next days were similar: just enough wind for me to get going, but not enough to beat against the wind. I tried to rent a bigger kite a couple of times, I think it was a 16m2. But following Murphy's law, that just made the wind blow slower. So it was more drifting down-wind and more walks of shame on the beach. I also watched a couple of low-wind tutorials (e.g. from Kitesurf College) and got a few helpful hints from the local instructors. But in the end nothing helped.
Finally, on the last day before I left Paje, I got the wind that I needed for my 12m2 kite. I could reliably keep up against the wind. I didn't drift downwind, but I couldn't get too far against the wind either. And all that without attempting jumps or any new maneuvers. I finally reached the level of kite surfing that I thought I had surpassed 10 years ago. After just half an hour, it began to rain and a thunderstorm came moving in. I thought it'd be too dangerous to stay on the water, and the wind was dropping, too. By the time I reached the beach, I could barely land my kite without stalling it.
In summary, this was the most frustrating kite vacation that I've ever had!
Wave Surfing
While Zanzibar attracts a fair number of kite surfers, it is not known as a wave surfing destination at all. An obvious reason are the barrier reefs all around the island, which shield the beaches from the waves. The reef is more than a kilometer off the coast in most places and can only be reached by boat. Or, by a lot of paddling.
There's also very little information about surfing Zanzibar on the web. Tanzania and Zanzibar are not even on the map at magicseaweed. And there's only one Zanzibar spot listed on Surf Forecast: Nungwi. Eventually, I found a short article at GoSurfAfrica, which mentioned a company called Aquaholics. They run a kite & surf center in Paje and they offer organized surf trips and surf rental. That was all the stuff that I needed and it was the reason why Paje was my first stop on Zanzibar.
I was very skeptical at first. The surf spot descriptions on the Aquaholics website sounded promising, but surfers tend to exaggerate. And, if there were good surf spots, why the heck wasn't anyone else surfing on Zanzibar? Spoiler alert: I was not disappointed.
It was a little hassle though: car transfer, picking equipment, warm-up and intro for beginners, boat ride, then paddle out to the line up. Then the same procedure backwards. Actual surf sessions were about 2h, but you'd have to plan 4h for the whole trip.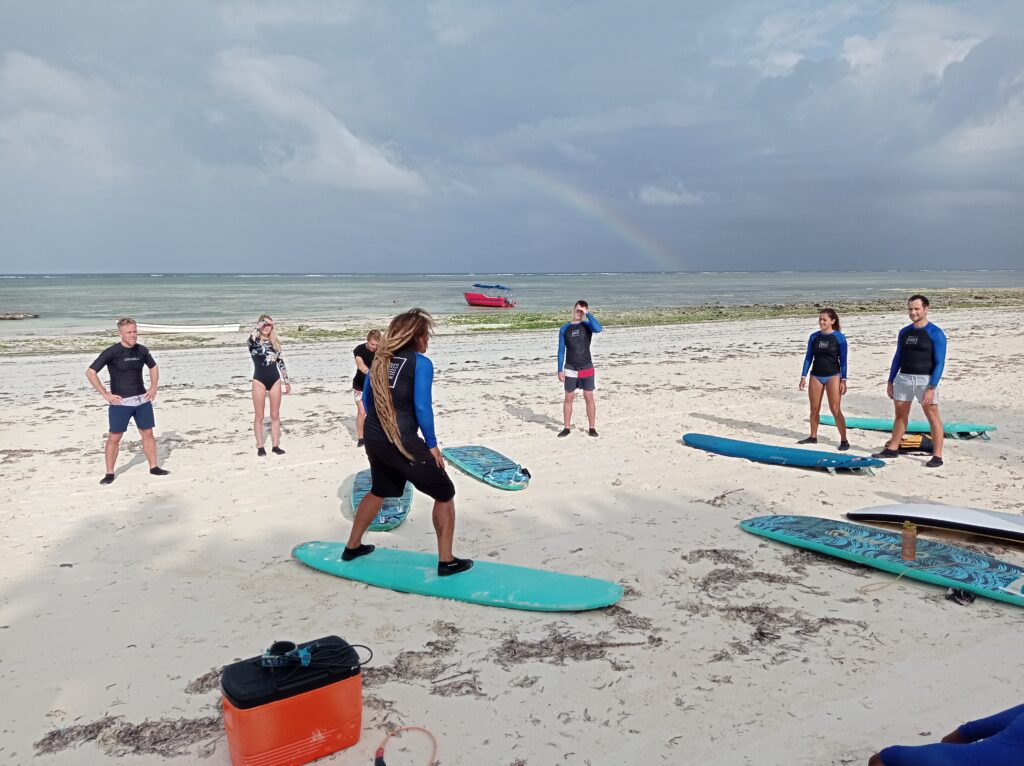 Aquaholics usually go to 3 spots near Dongwe, and those spots work best just after low tide, when the tide starts rising again. The first day, I grabbed a a big soft-top board and went to the spot named Tamarins. This spot is mostly for beginners and has a lot of whitewater. But it also breaks as a fairly decent right, if the swell is right. I could catch some mellow waves fairly easily. And I could see that the other surfers had good fun at the next spot, just 100 meters further south. I could definitely see some potential and I signed up for more.
The next day, I went to that other spot, which they call Doughnuts. It's also a right, but it has slightly bigger waves and you'll get longer rides. There's also a channel at the end of the ride and a little current that takes you back to the lineup. I have never seen such conveyor belt work that well before.
I was still on my big soft-top board and I could catch plenty of waves with it. So the next day, I changed to a smaller hard-top board. It was still an 8ft, but it had a narrower shape and less volume. It was way more agile than the hard-top. Just a nicer feeling on it. Since the swell would remain fairly small during the next days and weeks, I stayed with this board for some while.
The best thing about surfing Zanzibar is the crowds. There are no crowds. To the best of my knowledge, Aquaholics are the only ones on the island, who organize surf trips. And I haven't seen independent surfers during the whole month. The size of our surf group varied though. Some people would surf for a whole week, others would only join now and then, and some only once. Sometimes it would only be 4 tourists with 1 guide. Other times it was around 15 tourists with 3 guides/instructors. And this could be surfers with very differnt surf skills. So the group usually split up: beginners to Tamarins, more advanced to Doughnuts. Thus it was never more than 8 surfers competing for a wave.
This often led to the bizarre situation that I was the best surfer in the lineup. Well, except for the guide, of course. But they were busy pushing intermediates into the waves and generally herding the group. No pushing for me though. I was fairly self-sufficient, especially after I got to know the spot better. That isn't to say that the guides did nothing for me. On the contrary, they watched each of my rides and gave me a lot of useful advice.
I had a lot of fun at Doughnuts. I finally got to a point, where I felt that I was catching enough waves. It all came together: picking the right wave, getting into the right spot, paddle the right speed, and pop-up with the right timing. So I could finally pop-up without thinking too much about it. I could finally focus more on the wave riding part: bottom turns, going sideways, making turns up and down the face, pumping to stay on weaker waves as long as possible. Not everything was perfect: I still took waves that closed out on me, I did a few nose dives, or I simply lost balance after the pop-up. But there wasn't too much of that anymore. And it got better with each surf session.
Maybe that was because the surf conditions remained constant and the wave at Doughnuts was really mellow. I was eager for bigger swells, but they just didn't come. One day, there wasn't even enough swell for Doughnuts to work. Luckily, the Aquaholics crew had a plan B. We hopped back on the boat and went to another spot, called Keep Lefties. As the name says, it's a left handed point-break. And indeed we got lucky there. Took me a while to get used to the spot, because I've mostly been on right handed waves in recent years. But in the end, it worked surprisingly well.
A couple of days before I left Zanzibar, bigger swells finally arrived. Some described the waves as head high. However, there was also a lot of wind, which made the waves choppy and lead to a stronger current at Doughnuts. You'd have to paddle all the time just to hold your position in the lineup. With that, I just didn't have the energy to go for many waves. But the few rides that I got felt awesome — so much more power!
The next day I switched to slightly smaller board, still a 7ft 6in though. The board worked well, but current and chop at Doughnuts were even worse than before. I only caught very few waves and they mostly closed out on me. Even though there were a couple of good surfers in our group that day, no-one seemed to have a lot of fun.
On my last day, the conditions were similar, so most of us decided to go to Tamarins instead. The waves there were a little smaller, but still more powerful than the weeks before. And there was not much current at all. Even though I stayed on the smaller board, I could catch plenty of waves again. In the beginning, they often closed out on me, but that got better throughout the session. It was a good finale for my trip to Zanzibar.
Altogether I got 18 days of surfing, thanks to Aquaholics. Big shout-out at their surf crew! Ryan, Rachel, Hussein, Jason, it was a blast!