They say trains are one of the safest modes of transportation. And while I can think of several horrific train crashes in the past, I generally believe it's true. But now I'm wondering about all the small things that could go wrong? How common are they?
On my last surf-trip, I witnessed this small incident after getting off a Renfe train in A Coruña. Everyone was heading for the exit of the terminal, when suddenly there was some screaming. As I turned around, I saw that someone had got their foot jammed in a retracting footboard. Other passengers tried to alert the railroad staff, but it took a while till they arrived at the scene.
Since I still speak zero Spanish, so I figured that there was not much I could do. So I decided to document the situation instead: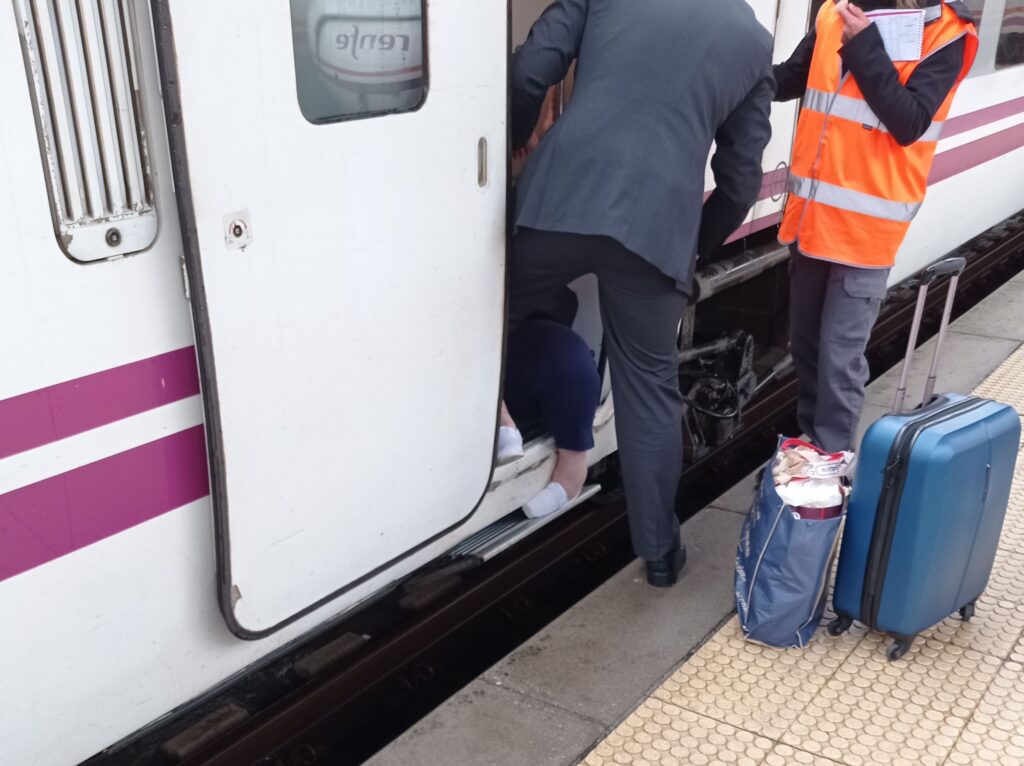 When you look beneath the conductor in the suit, you'll see these two feet in white slippers. And one of them is stuck between the wagon and the footboard, which is trying to tilt 90° upwards. You cannot see much of the trapped woman herself. Somehow she managed to fall backward into the into the train, leaving her foot at an awkward angle. It did look quite painful.
By now all other passengers had moved on and it was clear that the railroad crew didn't know how to deal with the situation either. I was thinking that it might be a good idea to lift the accident victim over to the outside before trying to pull her foot out. But she looked fairly heavy and I feared that it could make her situation even worse. Besides I couldn't communicate with anyone in Spanish (and I figured now was not the time to distract them with English).
The conductor and me tried to put our own weight on the footboard, but it didn't move a bit. Next the conductor tried to grab the foot by the heel and yank it out. I joined in and started pulling by the toes. I was really worried we could twist her ankle, but I didn't hear any screams. And slowly the stuck foot started moving and we got it loose after a few seconds.
The footboard immediately continued tilting upwards. Still putting weight on it, me and the conductor almost got our own feet stuck. But we managed to get out in time. The women looked shocked, but after a short while she could get up again. Looked like she could also walk normally. She didn't look too pissed either.
In hindsight I wonder, if the emergency door release would also release the footboard? The release lever was right next to the door, but I hadn't noticed it in time: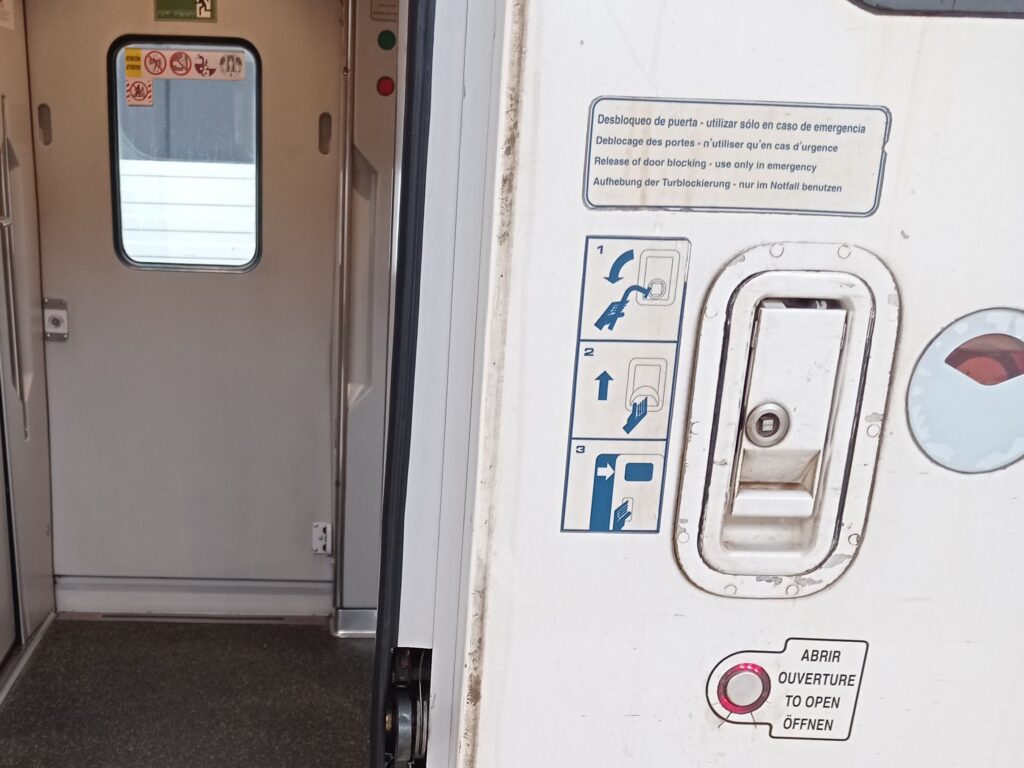 The railroad staff hadn't made any attempt to use it either. So maybe it's really just for the door?
I'm still baffled that the footboard didn't have any safety-mechanism built in. Shouldn't the retraction mechanism back off when it detects resistance? I'd sure expect automatic doors to back off, so why not the footstep?
I also wonder how other trains deal with this? I think the footboards of most ICE trains at home do not tilt, but rather slide. I guess they could still squeeze your foot against the platform, but you'd really have to be in the wrong place to allow this to happen. Gotta be more careful around trains, I guess!