Ok, I've posted way too much about Climbing Kilimanjaro recently. My next tourist activity was a Safari, but let's make this one shorter and focus on the photos.
Fun facts:
Being driven around in a vehicle all day and staring at things was not my favorite. That said, I still enjoyed our 4 day Safari in 3 parks of Tanzania's Northern Circuit. We saw way more animals than I had expected, and we got pretty close to many of them.
Tarangire
In the afternoon of day one we visited Tarangire National Park. Not the most famous one, but very easily accessible from Arusha. A tarmac road gets you almost to the northern gate of the park. And there is settlements and agriculture right next to the park's boundaries. Yet we saw elephants and a lion not far from there. We saw heaps of other animals, too, even though we only visited a tiny section of the park.
After visiting Tarangire, we drove northward and spent the night in camping hotel nearby Lake Manyara.
Ngorongoro (pass through)
The next morning, it was just a short drive to Ngorongoro Conservation Area, with its iconic crater. However, today we would only drive by on our way to our main goal, the Serengeti. We did stop at a view point on the crater rim though, and saw heaps of animals by the road on the outer slopes of the crater. Btw, the road was all gravel from here on.
Serengeti
Serengeti may be derived from a Maasai word for endless plain. And indeed, after Ngorongoro the landscape gets very flat. There's still moderate slopes, a few wadis, and hills in the background. But by the time we reached the gates of Serengeti National Park in the late afternoon, it was plains all around.
We weren't done driving yet. For the rest of the day, we followed an almost straight dust road towards Seronera at the center of the park. Even from that road, we could see tons of animals all around us.
We reached Nguchiro camp site around sunset. Though there is a lot of human activity here in the Seronera area, there's still wild animals around. When I went to the bathroom at night, I saw eyes staring at me in the distance. After turning the corner to the bathroom, there was hyena just ten meters away. Since it was looking the other way, I first thought it's a lion.
In the morning our guide explained something like: "Don't worry, lion killed buffalo nearby. Hyenas are here for the carcass." Wait what? There was lions nearby!?
Anyway, all tourists and crew survived. We got up early and started exploring the Serengeti.
We came back to the campsite for a late lunch, and in the afternoon we slowly started heading back to Ngorongoro on that long straight gravel road that we had arrived on the day before. Tanzanian massage, is what they call it.
Ngorongoro Crater
We headed back up the outer slopes of the Ngorongoro caldera, zooming by Maasai herds and villages. We arrived at Simba campsite before sunset and set up camp. We were soon joined by a buffalo and several zebras, who kept grazing between our tents all night.
The next day started early and was all about Ngorongoro crater. The main road down into the crater was not far from our campsite, and it's the only sealed road that I've seen in Tanzania's parks. A gravel road this steep would just erode away too quickly, in particular during rainfall.
The slopes of the crater are partly forested, but down inside the crater it's a huge plain, hosting a landscape of steppe, savanna, and a few bodies of water, the biggest one being Lake Magadi. We'd see much of the same animals that we'd seen the days before, plus a few new ones. There's also supposed to be rhinos, but we could only make one out in the far distance.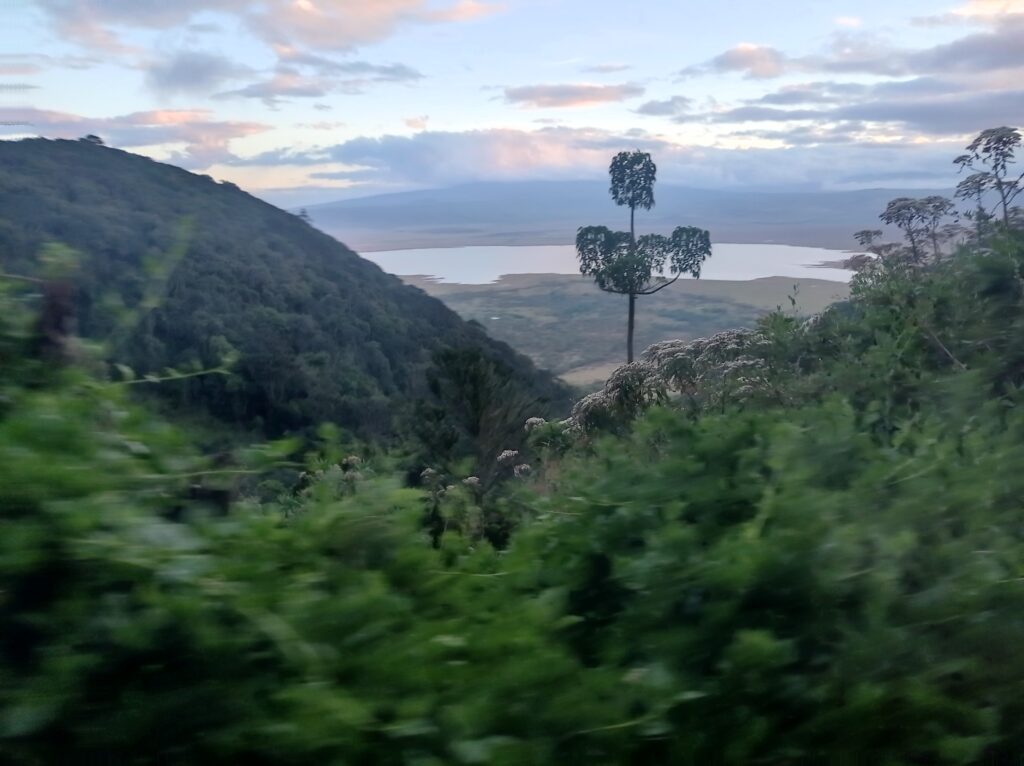 In the early afternoon we returned to Simba campsite for a late lunch. Just as we entered the campsite, we had our third flat tire. Luckily our crew had fixed it by the time we finished lunch. After that, it was smooth cruising back to Arusha.