One of the things I use my new phone most for, is listening to music. Unfortunately the Nexus One came with a set of regular earbuds, whereas I prefer canalphones. So I started to look for an alternative…
Wireless Audio Basics
The Nexus One has a regular 3.5mm TRRS headphone socket, so it should be easy get new headphones for it. However, I find having a long cable hanging from your ears to your phone in your pocket pretty annoying. That's why I looked for a wireless alternative. Of course there are plenty of wireless Bluetooth headsets out there, but so far few of them where suitable for listening to music. And most hip headphone brands like WESC or Skullcandy still don't offer any wireless products.
By the way, it's not just an issue of sound quality. There simply are different Bluetooth profiles for telephony and for music. Most Bluetooth headsets only support HSP or HFP, which provide sound output and input in mono. They're good enough for telephony, but horrible for music. That's where the A2DP profile comes in ‒ it transmits one-way high-quality stereo audio.
Product Description
Until recently, headphones that provide both HSP/HFP and A2DP were rare. But that seems to have changed now, as I found several such devices at a local electronics store. I finally chose a product called Jabra Clipper (PDF Manual) and so far I must say I'm really happy with it. Here's what it looks like: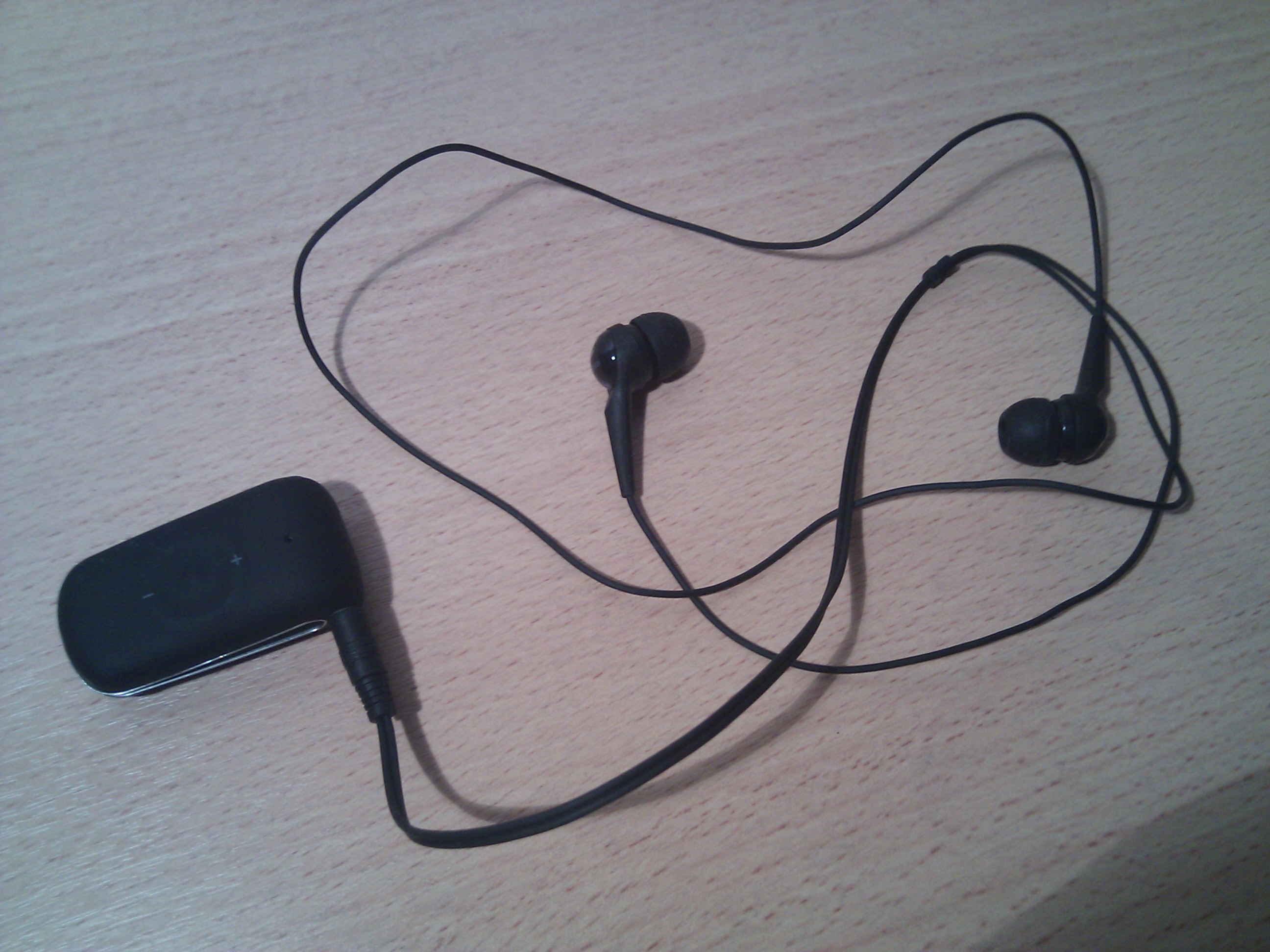 As you can see, it's basically a small clip with earphones attached. Admittedly it's slightly bigger than let's say an iPod Shuffle, but it's still really compact and it looks neat. Controls and the microphone are built into the clip itself, while the earphones are plugged into a 3.5mm TRS socket. This means you can plug in any earphones you like, though for now I stick to those packaged with the product.
The clip also has a micro USB socket for power supply ‒ which is great, since it's the same as on my new Nexus One. So I can use the same cable to charge the two devices. Plus I can use an arbitrary mirco USB cable to charge it them from my notebook computer when on the road.
Experiences
So how does it work together with the Nexus One? Well, like a charm! Once the two devices are paired and connected, the Nexus One automatically uses it for telephony and for music playback. It uses the appropriate profile respectively and it seamlessly switches from A2DP to HFP for incoming calls while listening to music. The Jabra Clipper only has 3 buttons, but they're multi-functional and support stuff like power on/off, volume control, skipping songs, answering calls and re-dialing.
However, I'm not only using the Jabra Clipper with the Nexus One. I also paired it with my notebook computer (it remembers multiple pairings) where I can use it for telephony and music, too. It worked out-of-the-box with Debian Squeeze with Gnome, Bluez and Pulse Audio. Finally I have a decent headset for Skype, SIP and XMPP/Jingle. But most of the time I simply listen music through it: I just remove the earphones from the clipper, plug in my stereo and connect from my notebook via Bluetooth A2DP. Then I can use the notebook in a cable-free manner anywhere in my room, and still listen to all my music.
Drawbacks
Nevertheless, wireless audio over Bluetooth is not free of trouble. As with all mobile devices, there's the limited battery runtime. So far it lasts for about 4 to 5 hours of listening to music. That's not much, but it's more than enough for most bike or train rides I do.
Then there's the problem of wireless connectivity and range. It all works pretty well when the space between the sender and the earphones is not cluttered with solid objects. For instance, when I wear the Jabra Clipper by my chest (e.g. clipped to my shirt or to the straps of my backpack) I have to carry my Nexus One in the front pockets of my pants. Wearing it in the back pockets wouldn't work with my fat body inbetween:-(
I'm also experiencing certain problems when using the wireless earphones with my notebook computer: when the music stops (e.g. because an album just finished) and resumes later on, the sound output is severely chopped. However, when I end the Bluetooth connection and re-connect after a few seconds, everything is fine again. This happens frequently when using the wireless headphones under desktop Linux, but I never experienced such problems when using them with the Nexus One. So I guess the problem lies somewhere in Bluez or Pulse Audio configuration, and I'm optimistic that I'll be able to solve this eventually.